Great Blessing of Water on Epiphany ( 20.01.2009 )


On the feast of the Epiphany, after the Divine Liturgy celebrated in St. Demetrius church in Skopje, the Archbishop of Ohrid and Macedonia Stephen, together with the Bishop of Heraclea Clement, performed the Great Theophany Blessing of Water, dipping the Holy Cross and blessing the water of the river Vardar after that.
The Archbishop of Ohrid and Macedonia Stephen said: "Epiphany is also named Enlightenment, because it is an event that enlightens us and helps us to understand the unceasing care of our God to humankind. Epiphany is an event, which permanently educates us how to love God and how to love people. It's an event that helps us to strengthen our faith. Epiphany put us together this year as every other year again in Skopje, such as in Ohrid and Prespa, in Gothenburg, Detroit, Sidney and next to all waters where the religious Macedonians live. We are here to celebrate and show that the tradition, which was present here for centuries still lives…. Lord Jesus Christ showed us the way to the eternal life, which leads through the holy water, as he entered the water of Jordan. And the water, in other words the Baptising, is the door through which we enter the eternal unity with God. Today, all Macedonian waters are Epiphany waters, and each river or lake, each of our waters is the Macedonian Jordan. We confirm our tradition with this celebration."
The Prime minister Mr. Nikola Gruevski and the Mayor of Skopje, Mr. Trifun Kostovski took their presence on this manifestation among the vast people of Macedonia.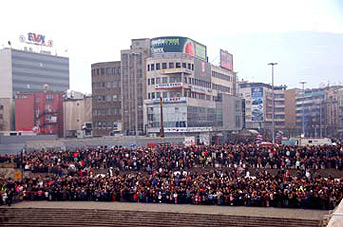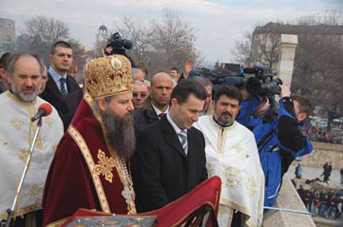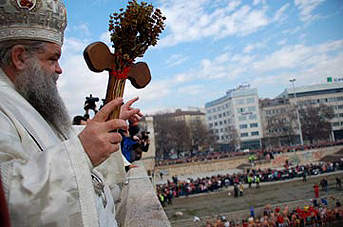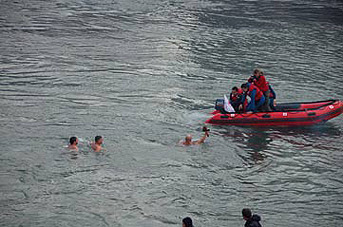 Reporting: Kalina Trpeska