Rajčica ( 19.03.2005 )


The exceptional love of monasticism for our Most Pure Sovereign Lady the Theotokos and Evervirgin Mary, glorified in the churches, in the monasteries and sketes, in the caves and kellia of the ascetics of God's Church for centuries long and worldwide, with the same exclamation sounded last evening and marked the end of the first five days of the Lenten services in the chapel of the saints Gregory Palamas, Nectarius of Bitola, and John Koukouzelis of Debar in the female monastery in Rajčica, with the hope that the Most Holy will support us this time again with the Holy Fast to acquire significantly the much needed remedy from the passions, since: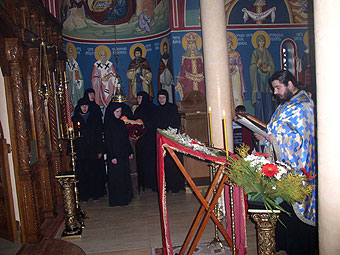 New matter showed us our Creator when
He appeared to us, by Him created;
From a seedless womb He came out
And preserved Her incorrupt as She was,
So that beholding a miracle, we sing Her praises, crying out:
Rejoice, O flower of incorruption!
Rejoice, O wreath of restraint!
Rejoice, You shone out the image of resurrection!
Rejoice, You proclaimed angelic life!
Rejoice, a fruit-bearing
Tree that nourishes the faithful!
Rejoice, a shade-giving
Tree to many a shelter!
Rejoice, One who bore in Her womb
The Deliverer of the enslaved!
Rejoice, One who gave birth to
The Corrector of the misled!
Rejoice, supplication to the righteous Judge!
Rejoice, forgiveness for the many sins!
Rejoice, garment of boldness of the desolate!
Rejoice, love that overpowers every desire!
Rejoice O Bride Unwedded!
In the monastery of the Holy Great-martyr George in Rajčica the preparations are underway to consecrate the throne in the chapel, which in this metochion of the Bigorski monastery is to be performed on Sunday (March 27), at the beginning of the week dedicated to the Holy Archbishop of Thessalonica Gregory Palamas (the first among the patrons of this chapel), by the diocesan Metropolitan Timothy and the clergy of the dioceses of Debar and Kičevo and of Povardarie. On this day the gates of the monastery of Saint George will be wide open to all believers and well-intentioned guests.