Irenaios will not resign ( 26.03.2005 )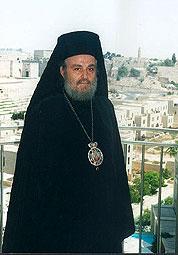 Only a day after Patriarch Irenaios, the head of the Greek Orthodox Jerusalem Patriarchate, refused to resign over the reported sale of some of its land to Jewish organizations, more than 1,000 Orthodox Christians held a vigil in Jordan yesterday to protest against the alleged transfer.
A statement issued by the organizers of the sit-in, conducted outside an Amman church, called for the property to be returned to the Church's control and those responsible for its reported sale to be tried in court. A petition signed by a majority of Jordanian MPs on Wednesday accused Irenaios of violating a 1958 Jordanian law barring the sale of Church lands in Jerusalem.
After an urgent meeting of the Patriarchate's Holy Synod on Thursday, Irenaios said he had no intention of standing down, saying he had done nothing wrong. "If I have done this, let my hands be cut off," he said.
However, the patriarch has come under increasing pressure to resign following a report in Israeli daily Maariv last Friday that the Church sold land in Jerusalem's Old City to Jewish groups, bolstering their presence in the area. After the meeting of the Synod, the Church's general secretary, Archbishop Aristarchos, joined the calls for Irenaios to step aside, claiming he was solely responsible for giving the Church's former financial manager, Nikos Papadimas, the authority to sign long-term leases. Papadimas disappeared three months ago and there is a European warrant out for his arrest.
taken from the Greek daily newspaper Kathimerini:
http://www.ekathimerini.com/4dcgi/_w_articles_politics_100006_26/03/2005_54456