Irenaios further implicated ( 28.03.2005 )


Patriarch Irenaios, the beleaguered head of the Greek Orthodox Jerusalem Patriarchate, came under increasing pressure yesterday after the publication of allegations that he offered to pay fugitive drugs smuggler Apostolos Vavilis a large sum of money to help him get elected and that he played a key role in the controversial leasing of Church land to Jewish investors.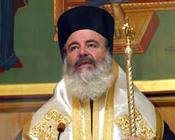 Vavilis claimed that Irenaios had offered him $400,000 if he helped him win the 2001 election for Jerusalem Patriarch, during a meeting which was also attended by the head of the Church of Greece, Archbishop Christodoulos, according to an interview published in Proto Thema weekly yesterday. Vavilis, who is wanted by Interpol, said that he never received the money.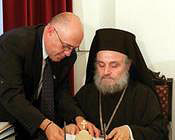 The convicted drugs smuggler also said that Christodoulos sent him on what he called a "national mission" to help get Irenaios elected. The archbishop has flatly refuted the allegation when it has been put to him in recent weeks and insists he had nothing to do with Vavilis's trip to Jerusalem some four years ago.
Apostolos Vavilis and Patriarch Irenaios
The patriarch has also faced opposition from within the Church to his leadership, with 20 archimandrites from the Jerusalem Patriarchate asking Irenaios to step down, in an open letter made public on Saturday. The priests said that Irenaios's name had "unfortunately" become linked to a person who was not trustworthy, thus creating a major problem for the Patriarchate — in reference to allegations that the patriarch gave the Church's former financial manager, Nikos Papadimas, the authority to sign long-term leases for Church property.
The archimandrites claimed that worshippers' trust in the patriarch has been damaged as a result. Their objections joined those of the Patriarchate's general-secretary, Archbishop Aristarchos, who on Thursday called for Irenaios to resign.
Papadimas, who disappeared three months ago and is being hunted by police around Europe, claimed in an interview published in Sunday's Eleftherotypia newspaper that when Irenaios took over as patriarch, the Church's finances were in an extremely poor state and that he encouraged the signing of land deals to help cover the Patriarchate's debt. He also said that he signed over only one Church property, rather than two, near the Jaffa Gate to Jewish investors on a long-term lease and that he did not sell off any land. Papadimas claimed he was fully authorized to conduct the details by Irenaios and had the legal paperwork to prove it.
more information on the following links:
http://www.ekathimerini.com/4dcgi/_w_articles_politics_100008_28/03/2005_54499
http://news.ert.gr/newsDetails.asp?ID=123275