On the disputable illegal actions that burden the Greek Patriarchate of Jerusalem ( 04.04.2005 )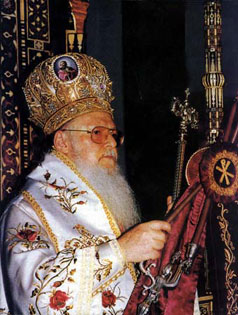 The possibilities of an ecclesiastical intervention to handle the situation in Jerusalem were discussed in Fanari between the Ecumenical Patriarch and the deputy foreign minister, Panagiotis Skandalakis. "The situation that has arisen recently in the Patriarchy of Jerusalem has demanded my presence in Istanbul and my meeting with the Ecumenical Patriarch," stated Mr Skandalakis after the meeting, and he went on to conclude: "the Greek government supports all the Patriarchies, but it does not impose its opinions." Patriarch Bartholomew, as the highest ranking Orthodox leader, can convene a Synod at the request of the Synod of the Patriarchy of Jerusalem, in order to examine any misdemeanours on the part of Patriarch Eirinaios or ways out of the crisis. At the same time, in an interview to a Sunday newspaper, Patriarch Eirinaios repeated that there is no question of his resigning, and that Vavilis was sent to the Patriarchy by Archbishop Christodoulos of Athens.
In the meantime, tensions ran high in Jerusalem, when Arab faithful jeered Patriarch Eirinaios during Sunday Mass.

Speaking to Ethnos tis Kiriakis newspaper, the Patriarch of Jerusalem rejected allegations that he sold Patriarchal real estate to Israeli businessmen and ruled out the possibility of resigning. "I would be naïve to betray the Holy Sepulchre," stated Patriarch Eirinaios, and blamed the accusations on personal interests of certain people, including church fathers.

At the same time, Patriarch Eirinaios once again connected Archbishop Christodoulos with Apostolos Vavilis. "I was sent Vavilis by Athens, by the Archbishop," stressed the Patriarch of Jerusalem, noting that the man with the thousand faces never gave him rights or knew his nature.

At the same time, the agreement signed in Jerusalem on 17 August 2004 by the representative of the Israeli Ministry of Defence and by Nikos Papadimas of the Patriarchy of Jerusalem was published by the newspaper Apogevmatini tis Kiriakis . The agreement regards the sale of lands in Jerusalem in order to build a security wall, which brought 156,000 euros.

However, in his interview, Patriarch Eirinaios claims that he never signed or empowered the sale of Patriarchal real estate and he accused the arch-secretary of not acting properly.
RAMALLAH (AFP) - Palestinian Prime Minister Ahmed Qorei held talks yesterday with the beleaguered Greek Orthodox patriarch of Jerusalem, who pledged to cooperate with any probe into charges that the Patriarchate sold land to Jewish investors.
Patriarch Irenaios is under growing pressure to stand down, with the row over the alleged sale in Jerusalem's Old City raging unabated.
"I met with the patriarch to clarify things," said Qorei. "Our position is very clear. The properties of the Church in Jerusalem and properties of mosques in Jerusalem all belong to the Palestinian people and we are worried about any measures being taken that undermine this. The patriarch confirmed that he did not issue any authorization for sales or long leases... [and] that there was not any sale."
[In an interview with the Eleftheros Typos daily on Saturday, Irenaios insisted he was innocent and rejected calls to resign. The matter was discussed yesterday in a meeting in Istanbul between Greece's deputy foreign minister, Panayiotis Skandalakis, and Ecumenical Patriarch Vartholomaios, head of the world's Orthodox Christians.]