Eirinaios Accepted Invitation to Phanar ( 09.05.2005 )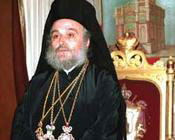 Тhe Ecumenical Patriarch extended an invitation to Mr Eirinaios to visit Phanar. As per Press sources, the latter has accepted the invitation, and promised that he will visit Phanar within the coming days. With statements to NET 105.8 the Jerusalem Patriarchate Press spokesperson confirmed the visit of Patriarch Eirinaios in Phanar. "Patriarch Eirinaios will visit Phanar and the specific date is expected to be decided on," stated Mr Vaggelis Mavraganis. The announcement reads: "Patriarch Eirinaios, in the presence of Alexandreia Patriarch Mr Theodoros, has accepted the invitation and promised that within the coming days he will arrive in the Patriarchate."
According to NET 105.8 sources, Mr Eirinaios tried to contact Mr Bartholomew over the phone and ask for explanations concerning his letter. Finally, Mr Eirinaios spoke with the manager of the Ecumenical Patriarch's office, Metropolitan Bishop of Sevasteia. Mr Eirinaios allegedly voiced his complaints, to which the Metropolitan Bishop answered that the problems were created by Mr Eirinaios, thus Phanar does nor bear any responsibility.

As per Press sources, Mr Bartholomew aims to convince Mr Eirinaios to resign, in order to settle the crisis in the Patriarchate of Jerusalem.
Furthermore, Mr Bartholomew is being continuously briefed on the situation by the Ecumenical Patriarchate's three-member delegation, which is in Jerusalem to assist in dealing with the situation.

In the meantime, the Jordanian Government has allegedly informed the Patriarchate's Synod that it will be co-signing the Synod Deed renouncing Eirinaios, while the Palestinian Authority has already declared that it is in favour of the Holy Sepulchre members.
the information is taken from the Greek media ERT: http://news.ert.gr/en/newsDetails.asp?ID=7723