New charges call the Patrirach Eirinaios to account for embezzlement ( 13.05.2005 )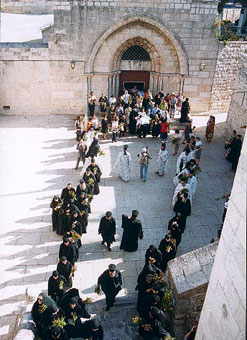 The Patriarchate's administrative committee made an application to freeze all of the Jerusalem Patriarchate's accounts in Greece and Cyprus. Furthermore, Archimandrite Kyprianos Meidonis, who served as administrator of the Patriarchate's financial services for a year, is accusing Eirinaios of expropriating 15,000,000 euros, which were gathered in Autumn 2002, during a pilgrimage to the icon of the Virgin Mary of Jerusalem. Speaking on NET 105.8, Archimandrite Kyprianos claimed that Eirinaios had allegedly said, "The money is mine and you better forget all about it." It should be noted that following the renouncement of the Patriarch, the Archimandrite moved to Cyprus. In the meantime, in his speech during a discussion in Parliament over foreign policy, the Prime Minister voiced his deep sorrow for the events taking place at the Greek Orthodox Patriarchate in Jerusalem. Mr Karamanlis stressed that the Government had pledged its commitment to reinstate the order right from the start, opposing illegal activities and asking the Patriarch to rise to the occasion in order to safeguard the Patriarchate's Greek Orthodox character and the status quo.
Third Synod in Phanar
Meanwhile, the Ecumenical Patriarch is expected to announce who will be officiating a Patriarchal Liturgy on Sunday in Phanar, alongside the Patriarch of Alexandria. Furthermore, an Ecumenical Patriarchate Synod for the crisis in Jerusalem will take place on Tuesday 17 May.
taken from: http://news.ert.gr/en/newsDetails.asp?ID=7810