The Most Reverend Timothy celebrated Divine Liturgy in the newly consecrated church in Timjanik, dedicated to the Nativity of the Most Holy Mother of God ( 15.05.2005 )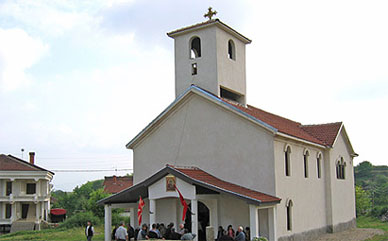 "From the righteous the universal joy has shown upon us, from Joachim and Anna the all-praised Virgin, Who of greatest purity an overshadowed temple of God has become, and Whom as the only true Mother of God we recognise. At Her prayers, Christ God, send peace to the world, and great mercy to our souls." (Verses at Vespers on the Nativity of the Panagia)
Yesterday, in the village of Timjanik, in the Negotino area, the church dedicated to the Nativity of the Most Holy Theotokos was consecrated by the Most Reverend Timothy, Metropolitan of Debar and Kičevo and Administrator of Povardarie, together with the clergy of the dioceses of Debar and Kičevo and Povardarie. Timjanik is situated at the distance of two kilometres from Negotino. The village comprises around 380 houses and all its inhabitants are Orthodox.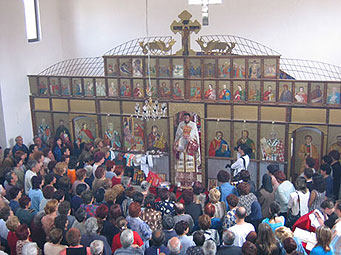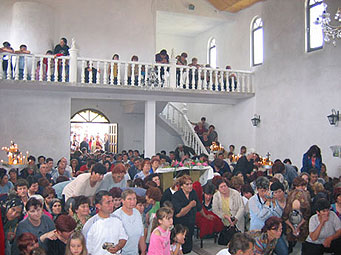 At the location of the newly built church, in the past there existed another one, which was ruined. On the same place on July 19, 2000, the foundations of the new church were lain. The altar in the new church is fresco-painted, a new iconostasis is made and put, in which the royal doors of the former church were placed. The remaining part of the church will be fresco-painted in the nearest future.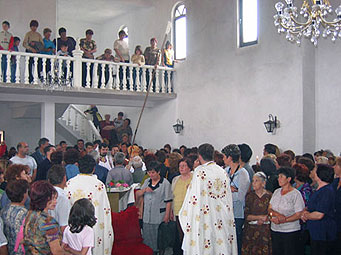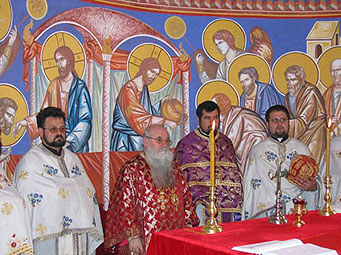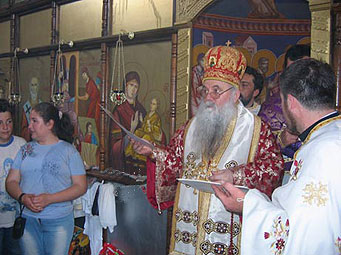 Along with the Church council, together with the residents of Timjanik, led by the parish priest Voislav Đorđiev, in the completion of this construction participated several organisations and citizens, who contributed through various donations the church to be built fast and to be ready for worship; as more significant ones we will mention: the "Balkan" Agricultural Farm Cooperative from Timjanik; "Urban-Invest" from Kavadarci; the Cable Factory from Negotino; the "Makedonija" Pastry Factory from Negotino; the "8 Noemvri" Tilery; the "Komunalec" Public Municipal Service from Negotino; "Venec" Winery from the village of Dolni Disan; the "Bovin" Winery from Negotino; Mr Ilija Đorđiev and others. To the most part of these donor organisations and citizens, His Eminence Timothy granted letters of thanks. After the Divine Liturgy, the present people was served common meal.