The Romanian Orthodox Church canonizes a new Saint ( 24.05.2006 )


On Sunday 21 May 2006, the feastday of the holy equal-to-apostles Constantine and Helen (New Calendar)—the patron saints of the patriarchal cathedral in Bucharest—during the Holy Liturgy Metropolitan Gregory of Wallachia was canonized as a saint.
His Beatitude Patriarch Theoctist of Romania headed the festive Liturgy. Along with the hierarchs of the Holy Synod of the Romanian Orthodox Church, his concelebrants were: Archbishop Gregory of Great Britain, of the Constantinopolitan Patriarchate; Metropolitan Basil of Elasona, of the Orthodox Church of Greece; Metropolitan Ignatius of Pleven, of the Bulgarian Orthodox Church; Metropolitan Metrophanes of the American diocese of the Serbian Orthodox Church; and Episcope Abel of Lublin and Chelm of the Orthodox Church of Poland.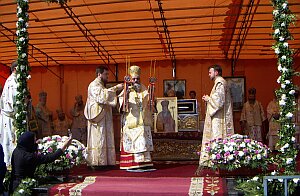 The newly canonized Romanian Saint was born in Bucharest in the year 1765. A disciple of Saint Paisius Velichkovsky, he received the monastic tonsure in the Neamt monastery and lived afterwards on Mount Athos. On his return to the homeland, he joined the monastic brotherhood of the Caldarusani monastery. he was the metropolitan of Wallachia from 1823 to 1834. as an archpastor, he founded theological schools and wrote many books for enlightenment of the faithful. Thus he was remembered in the history of the Church and the Romanian people as the most influential First Hierarch on the metropolitan seat of Wallachia in the 19th century, known as "Daskalu (Teacher)".
The Saint, whose relics are enshrined in the Caldarusani monastery, will be venerated on May 22.
Informs: the official site of the Romanian Orthodox Church