Saint John the Baptist's right hand to be brought to Russia from Montenegro on June 7 ( 31.05.2006 )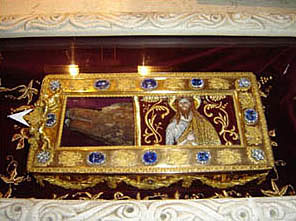 The right hand of Saint John the Baptist will be in Russia from June 7 to July 16 this year. The citizens of the Ukraine and Belarus will also have the opportunity to venerate the reliquary with the hand that the holy Forerunner placed on our Saviour's head in the moment of His Baptism in the river Jordan. The relics will be in Moscow, Saint Petersburg, Nizhniy Novgorod, Saratov, Rostov-at-Don, Vladicaucasus, Yekaterinburg, Chelyabinsk, Cheboksary, Kiev, and Minsk.
The right hand of the Prophet and Baptist John was for nine centuries in Antioch, where, according to tradition, it had been brought by the holy Apostle and Evangelist Luke. It was also in Jerusalem, on the island of Rhodes, in Malta, and in Austria. In 1799 AD, it was taken to the capital of the Russian Empire, Saint Petersburg, where it was enshrined with great piety for hundred years. following the revolution in 1917, the holy hand was taken from Russia to various cities in Europe. Afterwards the prophet's relics were given to the king of Yugoslavia Alexander Karađorđević.
Informs
: Православие.ру