Moscow Patriarchate handed particles of Saint Arsenius' relics to the Greek Orthodox Church ( 10.06.2006 )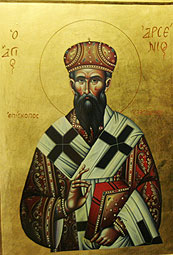 On 8 June 2006, in the Transfiguration church, the lower church of the Moscow cathedral of Christ the Savior, a meeting was held between Patriarch Alexis II and the delegation of the Greek Orthodox Church, headed by Metropolitan Basil of Elassona and Metropolitan Cyril of Thessaly. The guests gave Patriarch Alexis the epistle of Archbishop Christodoulos of Athens and presented him an icon of Saint Arsenius, painted by icon painters of the Greek Orthodox Church. Following that, the head of the Russian Orthodox Church handed Metropolitan Basil the holy relics of Saint Arsenius of Elassona, bishop of Suzdal, born Greek.
Saint Arsenius was consecrated Episcope of Elassona by Patriarch Jeremiah of Constantinople in the 16th century. He arrived in Russia in 1586, sent by the patriarch to thank the Moscow Tsar Theodore for the generous aid he gave the Constantinopolitan Patriarchate. Here, in 1589, he took an active part in the organization of the Patriarchate in Russia and in the enthronement of the first patriarch of Moscow and All Russia Job. The Saint stayed in Russia and served in the Kremlin church of the Holy Archangel Michael. Later, Arsenius headed the diocese of Tver and afterwards the one of Suzdal.
Informs
: Патриархиа.ру