The Holy Synod of the Russian Orthodox Church passes a decision to consecrate five new episcopes ( 21.07.2006 )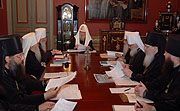 Under the chairmanship of Patriarch Alexis of Russia, the Holy Synod of the Russian Orthodox Church has adopted a resolution for election of five new episcopes.
The hegoumen of St. Sergius Holy Trinity Lavra, Aristarchus, is to be consecrated episcope of Kemerovo and Novokuznetsk. The hegoumen Theophylactus will be consecrated episcope of Magnitogorsk and vicar of the Chelyabinsk Diocese. The new episcope of Daugavpil and vicar of the Riga Diocese will be the hegoumen Alexander. The Synod has decided to elect archimandrite Marcel as episcope of Petergorsk and vicar of the Diocese of Saint Petersburg. There will be one more vicar hierarch in the Diocese of Moscow: the superior of the Ascension-David's Desert, the archimandrite Roman, with the title episcope of Serpukhovo.
Informs: Patriarhia.ru