Mount Athos: The Last Fifty Years and the Next ( 11.02.2007 )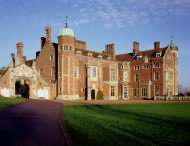 Madingley Hall is a grand seventeenth-century country house 3 miles west of Cambridge. It belongs to the university and serves as a designated conference centre.
Following the success of their first two conferences in 2003 and 2005, the Friends of Mount Athos have decided to return to Madingley for a third conference in February 2007. Between dinner on Friday 9 February and lunch on Sunday 11 February there will be a series of talks presented by scholars of international renown, each of whom has an intimate knowledge of some aspect of the current situation on the Holy Mountain and is keen to make the topic accessible to a broadly based audience.

The main speakers will be:
Bishop Kallistos Ware (Oxford)
Dr Graham Speake (Oxford)
Dr Oliver Rackham (Cambridge)
Professor René Gothóni (Helsinki)
William Lillie (Thessaloniki)
Dr Nicholas Konstas (Simonopetra Monastery)
The conference is also open to non-members.
Source: The Friends of Mount Athos