The 25th Anniversary of the Repose of Hieromonk Seraphim (Rose) ( 23-08-2007 )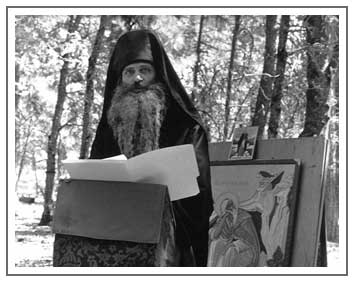 The 25th anniversary of the ever-memorable Hieromonk Seraphim (Rose's) repose will fall on Sunday, September 2. Father Seraphim was a hieromonk of the Western American Diocese of the Russian Orthodox Church Outside of Russia.

Thanks to his many translations and articles Father Seraphim became a teacher of faith and piety to many Orthodox people throughout the world. His theological legacy is set apart by it's strictness and faithfullness to patristic Tradition. Fr. Seraphim's missionary endeavors are especially relevant in our day.

The 25th anniverasry of Hieromonk Seraphim's repose will be specially marked at the St. Herman of Alaska Monastery (now under the Serbian Orthodox Church) in Platina, California. On Sunday, September 2, at 2:00 pm a series of lectures on Fr. Seraphim will be read. On Monday, Septemebr 3 a Hierarchal Liturgy is scheduled at 10:00 am followed by a memorial service and meal.
Source: http://www.wadiocese.com/wad.php