Metropolitan Laurus Reposes on the Sunday of Orthodoxy ( 17.03.2008 )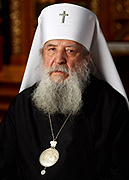 Yesterday, on the day of the Triumph of Orthodoxy, March 16th 2008 in Jordanville, NY His Eminence Metropolitan of the Eastern US and New York, Laurus, First Hierarch of the Russian Orthodox Church Outside of Russia, reposed in the Lord.

He was born on January 1, 1928 in Ladomirovo, modern day Slovakia. He first steps into the monastery dedicated to the Venerable Job of Pocaev in his birth place, from which he is evacuated to the United States in Jordanville, New York where the new Monastery of the Holy Trinity, spiritual center of Russian Church Outside of Russia, was established.

He is consecrated on August 13, 1967, while becoming Archbishop in 1981, and on July 10, 2000 is chosen as associate head of the Russian Orthodox Church Outside of Russia.

During the Sobor of October 2001, he is chosen as head of the Church. On May 17th of last year, in the Temple of Christ the Savior in Moscow, the "Act of Canonical Unity" is signed and the Russian Orthodox Church Outside of Russia officially joins in communion with the Russian Orthodox Church.

The Funeral Service for Metropolitan Laurus is planned for March 21, 2008.
May His Eminence abide in the Kingdom of Heaven. Memory eternal to him!
Source: AKMPE