Romanian Orthodox Church has a news agency ( 17.06.2008 )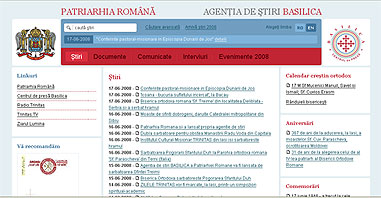 Basilica News Agency was launched yesterday, in the attendance and with the blessing of His Beatitude Daniel, the Patriarch of the Romanian Orthodox Church. The agency is part of the Romanian Patriarchy's Basilica Press Center, along with Radio Trinitas, Trinitas television, 'Ziarul Lumina' daily and the Press Office.

Its task is to present, in the form of news and press documentaries, the institutions, activities and attitudes of the Romanian Orthodox Church, as well as those of other Churches, in various current issues. The news and information are organized electronically on the basilica.ro website and include information on the Church life in Romania and abroad: the activity of the Patriarch of the Romanian Orthodox Church, the decisions of the Holy Synod, the activities of dioceses and parishes, those of theological schools and church associations, the Church's dialogue with civil society, as well as inter-faith and inter-religious dialogue. The information published on basilica.ro website contains Romanian, English, French and Russian versions and can be used freely by individuals and institutions, provided it is for professional purposes and is done by pointing out the source.
Source: Basilica.ro