The Russian Church considers Constantinople's decision to consecrate new bishops in Estonia as unfriendly ( 19.06.2008 )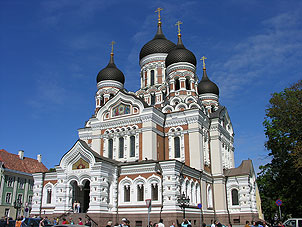 Moscow, June 18, Interfax - Election of new bishops for Constantinople Patriarchate's jurisdiction in Estonia unrecognized in Orthodox world is not wanted by believers and will complicate the situation with Orthodoxy in this country, the Moscow Patriarchate has stated.

"The decision to consecrate new bishops is not conditioned by real needs of a small flock of the Constantinople church organization. Official information of the Ministry of Interior says their number equals to 25, 000 believers," the statement of the press-service of the Moscow Patriarchate Department for External Church Relations reads as issued in the official web site of the Russian Church on Wednesday.

Thus, the DECR commented on the results of the meeting held among representatives of the Constantinople Patriarchate in Estonia in Tallinn on June 12. Bishops-candidates for the Tartu and Pjarnu-Saarremaa Dioceses were elected there and the process of "restoring Estonian Orthodox Church" was announced to be almost completed as its Bishop's Synod would soon be established.

The Russian Church also notes that the same information from the Ministry of Interior states that the believers of the Moscow Patriarchate's Estonian Orthodox Church equal to 170,000 people entrusted to 60 clerics.

"According to the information, churches of the Constantinople Patriarchate in Estonia are not full even when seldom services are conducted in many of them. Newly-elected bishops can hardly improve the situation as majority of the country's Orthodox believers wish to preserve their devotion to the Mother-Church of the Moscow Patriarchate," the statement reads.

Source: Interfax