Patriarch of Constantinople Proposes Eastern Catholicism's Return to Orthodoxy ( 21.06.2008 )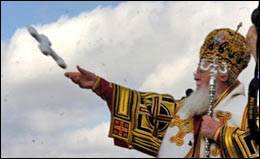 Munich—In a recent interview with the German ecumenical journal Cyril and Methodius, the Patriarch of the Orthodox Church in Constantinople Bartholomew I invited Eastern Catholic Churches to return to Orthodoxy without breaking unity with Rome. He noted that "the Constantinople Mother-Church keeps the door open for all its sons and daughters." According to the Orthodox hierarch, the form of coexistence of the Byzantine Church and the Roman Church in the 1st century of Christianity should be used as a model of unity. This story was posted by KATH.net on 16 June 2008.
At the same time, the patriarch made positive remarks about the idea of "dual unity" proposed by the head of the Ukrainian Greek Catholic Church, Archbishop Lubomyr (Husar). Patriarch Bartholomew I noted in particular that this model would help to overcome the schism between the Churches.
Source: RISU