Bells for Macedonian monastery manufacturing in Voronez (Russia) ( 18.12.2008 )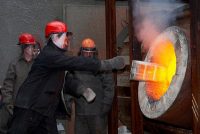 The Voronez plant for bells production "Vera" ("Faith") is in a phase of producing bells for the bell towers of the St. John the Baptist Bigorski Monastery in Macedonia, claimed this Wednesday the deputy-director of the plant Mrs. Marina Anisimova.
There will be produced 10 bells of the biggest size, with a 500 kg weight.
This autumn the representatives of the plant connected with some sponsors, a family from United States of America, and in December the plant have signed a contract with them, while the price was not disclosed to the public, by request of the purchaser.
All the bells will be decorated with ornaments towards the design of Macedonian painting artists. The purchaser will get the bells in February 2009.
The Voronez plant for bells production "Vera" was established and works since the end of 1980. Till now, they have produced 17 thousand bells not only for Russia but for the temples in USA, Japan and European countries, as well. One of vast number of bells that Voronez experts produced, is the manufacture of the true copy of the bells of St. Daniel Moscow Monastery, which was performed for the Hardware University in USA.
Source:
Patriarhia.ru