The VI Clergy and Laity Assembly of the Bulgarian Orthodox Church finished ( 18.12.2008 )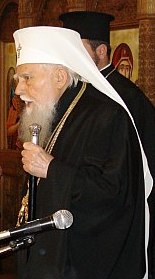 In the morning of December the 12th, the VI Clergy and Laity Assembly of the Bulgarian Orthodox Church has been finished. The Constitution of the BOC came into effect on this Assembly.
The previous evening, December 11th, during the third session of the VI Clergy and Laity Assembly of the BOC, the delegates from all the eparchies put their hands together under the text of the project of the new Constitution of BOC, so consequently the given project has been established. The analyses of the new Constitution project took place during the three sessions of the VI Clergy and Laity Assembly: first from 14th to 18th of May, second from 6th to 11th of October and the last from 9th to 12th of December 2008.
Closing the Assembly, the Bulgarian Patriarch Maxim expressed his gratitude to the organizers and participants of the Assembly, stating that "the brought solutions and documents are a new contribution of the historic efforts of our worthy predecessors, who belong to the eternity – brothers bishops, priests and orthodox Christians, who acted for the benefit of BOC".
One of the important economic solutions, which has been brought on the Assembly, was the establishing of a centralised budget of BOC. It will be formed by the contributions of each diocese; and under the control of the Holy Synod will be financed the stavropegial monasteries and buildings, as well as the Seminaries, High Theological Schools and the salaries of the church servants in the dioceses. It was not precisely defined which percentage of their income the dioceses will dispose for such budget.
Resolutions for founding a good-will pension funds for the priests, use of the candles for the churches, that are produced in the Synod working complex have been brought also.
The tempest debates provoked the issue of the creation of the General Registry about the property of BOC. Some Metropolitans insisted such a Registry to be established on a diocese level, and this matter has to be resolved by voting. The majority of the delegates, including the Archbishop Maxim voted for a unique church character of the Registry, and the access was given to the secretary of the Holy Synod, the Bishop of Stoby Naum.
Source:
Pravoslavie.ru