Patriarch Alexy II urged to live the commandments and seek the truth in his last
Christmas message written shortly before his death ( 10.01.2009 )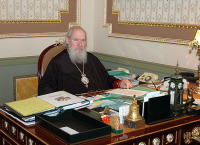 Moscow, December 30, Interfax - Alexy II wished everyone peace, good health and success in good undertakings in coming New Year in his last Christmas greeting which he prepared, but didn't have a chance to address his flock.

"Don't we often live as we will, leaving out the will of God and His commandments, relying only on human strength and leaving out the strength of God? Don't we replace our aspiration for peace and truth with vanity that leads only to disappointing emptiness?" such questions the Patriarch asked in his message.

He urged to remember, "The peace of Christ conquers the hostility of this century and only having this peace in his heart, a person can keep balance in all every day storms and bring reconciliation to those who are near and far, transfiguring life with faith, truth, purity and love."

Patriarch Alexy wished the peace of Christ could reach both disciples and followers of the Savior (people of various age, nationality, political views and social layers) "and people of other beliefs and convictions as we build up our national life together."

"The world is troubled again. Blood is shed in many places, people are suffering. However, we believe that the Lord will help us, Orthodox Christians, prompt people to reconciliation, to wise and just settlement of all disputes and discords with our good example and action," the Patriarch further said in his message.

In conclusion, Alexy II wishes the words of St. John of Shanghai said in 1938 came true: "Blessed you are, Russian Land, purified with the fire of sufferings! You went through the water of baptism, now you are going through the fire of sufferings, but one day you will reach quietness."
Source:
Directions to Orthodoxy