40 day have passed since Patriarch Alexy's decease ( 14.01.2009 )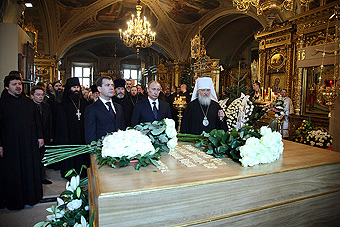 Moscow, January 13, Interfax – Requiem services for Patriarch Alexy II of Moscow and All Russia, who died forty days ago, will be conducted on January 13, Tuesday, in all churches of the Russian Orthodox Church in Russia, the CIS and other foreign countries.

Divine Liturgy and requiem service will be conducted at the Yelokhovo Epiphany Cathedral, where the primate is buried. The Locum Tenens of the patriarchal see Metropolitan Kirill of Smolensk and Kaliningrad will head the services.

At the same time, Bishop Theofilakt of Bronnitsy will conduct the Liturgy in the Cathedral of Christ the Savior. Orthodox youth from Moscow will pray at the service. Composite choir of the Council of Moscow Orthodox youth organizations will chant at the requiem service after the Liturgy, the Patriarchate's press-service has reported.

According to the Church tradition, a human soul comes to God's interim judgment on the fortieth day after death to have her lot defined for the time before final judgment, so there is a custom to intensify prayers for the late on this day.

Alexy II died on December 5, 2008, in the morning after the feast of the Presentation of the Holy Virgin in the Temple. On the eve of his decease, on December 4, he celebrated the Liturgy at the relics of Holy Patriarch Tikhon. Alexy II's senior subdeacon Sergey Kuksov later said, "It was his meeting with Patriarch Tikhon as he repeated his feat when he deterred the attacks of those who were hostile to our Church and to the Russian state."

The primate's funerals took place on December 9. Before this date, the Patriarch's coffin was placed at the Cathedral of Christ the Savior so that all those who knew and loved Alexy II could come to say good-bye to him. About 100,000 people visited the Cathedral those days. State leaders from various countries, primates of the Local Churches and many ordinary people who took his death as personal loss came to the funeral service.

Commemorative events timed to the Patriarch's 80th birthday will take place in Moscow in February this year (Alexy II died less than three months before this anniversary).

The Synod decided to open permanent exposition dedicated to Alexy's life and work in the Cathedral of Christ the Savior.
Source: Directions to Orthodoxy