Greek Orthodox Church takes position regarding the crisis in Gaza ( 16.01.2009 )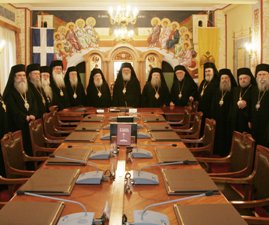 On January 13th 2009, the permanent Аssembly of the Holy Synod of the Greek Orthodox Church had its first conference for this year, under presidency of His Beatitude Archbishop of Athens and all Greece Ieronymos. It was said in the announcement from this session as follows:
"The permanent Assembly of the Holy Synod discussed the events in Gaza area and expressed its feeling of pain and sorrow because of the bloodshed, and in the same time ascends its prayers for pacifying of the situation there. Church manifests its help in any such case, no matter of the nationality or religion. The Holy Synod decided to gather food (such as flour, rice, drinking water etc.) and money funds for providing medicaments. The collected humanitarian aid will be distributed in the Gaza area through the Church Non-Governmental organisation "Solidarity." The Metropolitan of Ilia already gave 10 tons of cooking oil, and the Metropolitan of Patra - 10 tons of flour.
Extracted from the announcement of the press-office
of the Holy Synod of Orthodox Church in Greece
Source: Ecclesia.gr, Pravoslavie.bg