Epiphany Swimming in Moscow ( 18.01.2009 )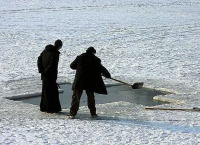 On the eve of the big Christian feast, Epiphany (The Baptising of the Lord Jesus Christ) a water-blessing will take place in Moscow on 15 locations (lakes, channels of Moscow river, the river Moscow, water-tanks, little lakes and also special baths – jordans, which are made in a form of a cross, in which an Epiphany swimming will be performed afterward. Through the day, beside each of them, will stay rescuers.
"In order to make the Epiphany swimming safe, on the places of mass swimming, at the time of celebrating the Baptising of Christ, 18-19th of January, are organised tours of duty of the Moscow City rescue service, at 15 locations" – stated from the Agency.
Source:
Patriarhia.ru