Georgian Patriarch Elijah II performed the traditional baptising of children coming from multitudinous families at the Holy Epiphany Day ( 19.01.2009 )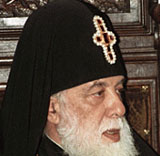 In the eve of Holy Epiphany (The Baptising of the Lord Jesus Christ), the Georgian Patriarch Elijah II has made a Big Epiphany Water-blessing in the temple of Holy Trinity. Today, the Head of Georgian Church celebrated Devine Liturgy.
In addition, according to the established tradition, on the initiative of the Patriarch, several hundred children have been baptised, and the Godfather was the Patriarch himself. From the number of 620 kids, who are the third or further in the Orthodox married families in Georgia, some of them were baptised today, and the other will be baptised later on.
Source:
Patriarhia.ru