Epiphany in Jerusalem ( 20.01.2009 )


Vitavara in the desert of Judea, near the town of Jericho, the place of the Baptising of the Lord Jesus Christ is a closed border zone between Israel and Jordan. Two times in each year only, the place is open to visit for Israeli – at the day of Great and Holy Thursday at the Passion Week and at the Eve of Epiphany. At the eve of the feast, in accordance to the rules of the Orthodox Church a Great Epiphany Water-blessing is taking place. According to the centurial tradition, the Orthodox priests come to the place of Lord Jesus Christ Baptising, to bless the waters of the river Jordan.
At the day of January 18th, the Patriarch of Jerusalem Teophilus arrived at the Greek Orthodox Monastery St. John the Baptist, which is placed near to the river Jordan, and from there he set off to the river accompanied by the religious procession. In a tend especially rose for this occasion, the Patriarch of Jerusalem did the act of the Great Water-blessing, and took his way to the banks of the river Jordan, to dip the Cross in the water of the river. The white pigeon, which the Patriarch releases in memory of the Gospel's event of the Saviour Baptising, this time landed shortly at the branch of sweet basil that the Patriarch was dipping in the pot with holy water, before it flew to the sky.
Traditionally, at this holy service to God, a vast number of pilgrims are coming from Russia, Ukraine, Greece, Romania, Serbia and from other Orthodox countries. The Superior of the Russian Spiritual Mission in Jerusalem Archimandrite Tikhon, accompanied by the Nuns of the Gornensky Monastery and clergymen of the Mission prayed at Jordan river, together with the pilgrims. The ambassador of Greece in Israel, representatives of the Israeli Army, heads of offices of Israeli Interior ministry, the ministry of Tourism, Presidents of the Department of Religious Groups of the Police of Old Jerusalem were present at this Service to God also.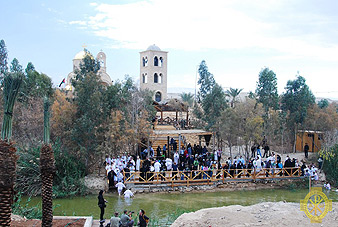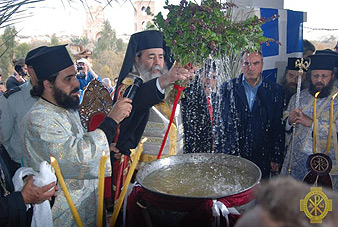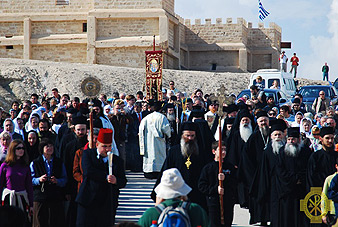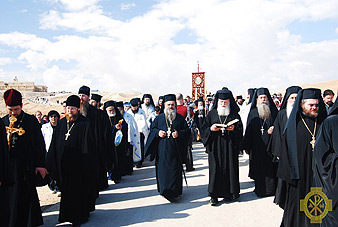 Source: Russian Orthodox Mission - Jerusalem