The Name Day of the Bulgarian Patriarch Maxim Celebrated ( 22.01.2009 )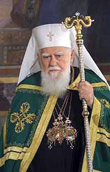 With a Divine Liturgy and Supplication, the Name Day of the Head of the Bulgarian Orthodox Church – His Holiness Maxim, the Bulgarian Patriarch and Metropolitan of Sofia, was celebrated yesterday in the cathedral of Saint Kiriaki.
The distant temple was full of faithful people coming to salute its Patriarch and receive his blessing. At the end of the service, which lasted more than three hours, the Patriarch blessed all those present, and apologised that he couldn't bless each of them particularly, due to his physical handicap.
After the Liturgy, at the party in the Hall of Sofia Metropolis, His Holiness was receiving greetings from various clergymen, theologians, public persons for more than a hour.
The Throne keeper of the Russian Orthodox Church, the Metropolitan of Smolensk and Kaliningrad Cyril, have sent his best wishes to the Bulgarian Patriarch in occasion of his Name day, as well.
"Your Holiness! I salute you cordially in the occasion of your Name day, the name of your Haven Patron – the Holy Saint Maxim the Confessor.
Your life is full of work for the goodness of the Holy Church of Christ, and it is the example to follow for many.
We pray to Lord Jesus Christ to continue giving peace and prosperity for our brother's Bulgarian Orthodox Church and a long and healthy life for you.
With Love in God."
Source: Дверибг.нет, Патриархиа.ру