The New Greek Minister of Education and Religion Visited the Greek Archbishop ( 24.01.2009 )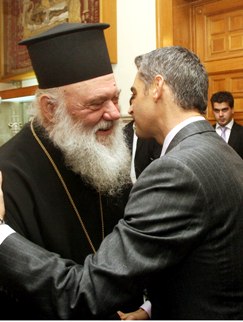 On January, 22nd, the new Greek minister of Education and Religion Mr. Aris Spiliotopulos met the Archbishop of Athens and whole Greece, Hieronimos.
At the end of meeting, the minister claimed that he came to this meeting with HH Hieronimos with a great respect, and that he will always fully respect the decisions of the Holy Synod. The Archbishop replied that the Church and the Government are ready always to co-operate for the benefit of the state.
Source: Romfea.gr