Speech of the Elected Patriarch Cyril on the General Assembly of the Russian Orthodox Church ( 28.01.2009 )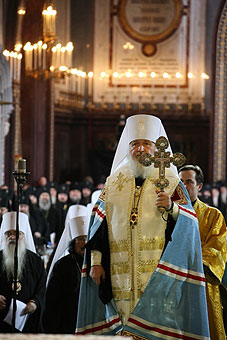 Your Eminences, honoured Fathers, Brothers and Sisters!
In tranquillity of soul, and fully aware of the big responsibility, I accept the choice of God to entrusted Patriarchy service. It is big. It is responsible. However, in the centre of this service is the Cross of God, the Cross - with such dimensions, that only the one who carry It, may feel and comprehend them.
I remember the words of Patriarch Alekey, who spoke severely how heavy the Cross of Patriarchy service is.
The Heads of Church bear this Cross - though it exceeds the limits of the power of any man. They bear it, because together with the Cross - they bear archpriests, priests, the people of God. They bear it because the Church itself bears this Cross together with the Patriarch.
And, as the bearing of the Cross is shared, as the responsibility is shared so the Glory is to be shared.
When pleasant words are dedicated to the Head of Church, they are dedicated in the same time to the people of God, clergymen, archpriests – all those, who together with the Head of Church, bear this heavy Cross and the big responsibility in the eyes of God, and towards the history.
Taking the announcement of God's will from you, I pray for your forgiveness of my weaknesses, I ask you to help me with your advises, I ask you to be with me in my Patriarchy service. But, first of all, I ask for your prayers – the prayers for which I know that people who participated in bringing the decision of our General Assembly prayed; and many others; Prayers that came out from hearts that do love and do trust.
God bless our Church, our people, the countries where our Russian Church serves, and all those who helped this to happen with their prayers and efforts. Again and again, I do ask you to mention my name in your holy prayers.
Source: Патриархиа.ру