The Children's Bible published in Tatar ( 31.01.2009 )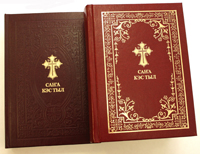 IBT's Children's Bible has now been published in 36 languages, most of them spoken in Russia and other CIS countries. The latest version is in Tatar, printed in Kazan in January 2009 and called "Pages from the Holy Scriptures". On the cover of the book the different parts of the Bible are indicated: Pentateuch, Psalms, Prophets and New Testament, in order to show the reader which Holy Scriptures it concerns.
Since other books printed in Tatar for children were distributed very quickly, we believe that this new book also will be sought-after. 3,500 copies have been printed. The Children's Bibles will be distributed by the churches, and some of the books have already been delivered to all the libraries and prisons in Tatarstan.
The translation work on the Tatar Bible is continuing. Besides the Injil (New Testament), and the Taurat (Pentateuch), published by IBT in 2001 and 2007, the whole Bible will be ready for printing within a couple of years.
Source: http://www.ibt.org.ru/english/info/info_news_en.htm#220109