Humanitarian Activity of the Greek Orthodox Church ( 05.02.2009 )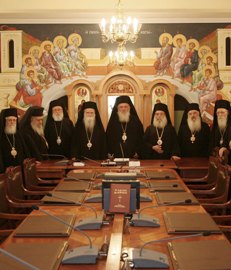 At February the 4th 2009, the permanent synod of the Greek Orthodox Church held a session under presidency of Archbishop Ieronymos. Related to the initiative of the Greek Orthodox Church about building and constructing some institutions, His Holiness informed as follows:
1. All the documents for the construction of a 7-floor building near the Hospital for cancer deceases in Teagenion, Thessalonica, are completed. The building is in purpose of accommodation of the relatives of those who are placed in the Hospital for cancer deceases.
2. The plans for start of the construction works of a Centre for handicapped children in the village Aniski, nearby Athens are completed.
3. The construction works of a centre for paralysed people in the village Varnav, nearby Athens will start soon. The capacity of the centre is 70 beds and escorting departments.
4. The construction of a Centre for Cancer ill people, who cannot be cured and are close to death, and is called "The House of Pain", will begin soon. Near to this centre, a construction of a school for Medical nurses will begin, too. The nurses will be educated and specialised to work in the centre mentioned above.
5. The Synod of the Greek Orthodox Church will dispose 183.222 euros as a fund for January and February this year, for families having 3 children in the region of Trakia.
6. The synod will give a site of 60.000 sq. m. for the needs of the Greek government. The government will build a new prison on that site.
7. In Kalamata, the Synod will give 769,40 sq. m. ground site, for construction of a Geriatric House.
8. The synod brought a decision, 18.057,88 sq. m of the property of the monastery Holy Mother of God – Life Bringing Spring on Paros to be given in purpose of building a Hospital.
Source: Romfea