The Diary book of the late Patriarch Alexy II will be exhibited in the cathedral of the Lord Jesus Christ the Saviour in Moscow ( 07.02.2009 )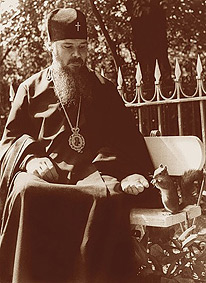 On the day of February the 23rd, in the cathedral of the Lord Jesus Christ the Saviour in Moscow will be open an exhibition dedicated to the life of Alexy II. Patriarch Alexy was born at this day, 80 years ago, and it would be his 80th birthday if he would be alive.
"I think that the visitors will show a particular interest for the Diary Book of His Holiness Alexy II. We'll open it on the site with records from December the 4th. (Alexy II passed away at December the 5th)" – stated for "Interfax" the Administrator of the Publishing Council of the Moscow Patriarchate, priest Vladimir Silovyev.
Other personal things and photographs of the late Head of the Church will be exhibited here, as well. This exhibition will be held in the occasion of the "Days of Memory of the Late Head of Church, Alexy II" which was decided in December 2008, by the Synod of the Russian Orthodox Church. Most likely, this exhibition will be temporary at the beginning, and from the next autumn it shall become permanent.
The Publishing Council will edit a big Orthodox Calendar dedicated to Alexy II in this occasion, too – stated further on father Vladimir Silovyev.
"Stavropegial Monasteries will be mostly presented on the Calendar, His Holiness was taking a particular care for them" – said father Vladimir.
On the December Conference, the members of the Synod brought a decision to establish an Award called "Alexy II" for the students of the Spiritual Academies, the Synod Library of the Moscow Patriarchy, and the yearly Award of the Fund for Unity of Orthodox Peoples, which has been founded by the late Head of Church.
Source: Интерфакс