Russian Orthodox Church helps the spreading of Christianity in Africa ( 09.02.2009 )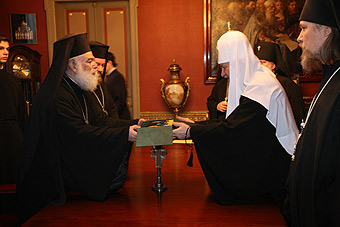 The Russian Orthodox Church will continue its help in expanding the Christianity in Africa. This was stated by the Patriarch of Russia Cyril, during his meeting with the Head of Alexandrian Patriarchate, Patriarch Theodor II. The Patriarch of Alexandria arrived in Moscow in the occasion of the enthronement of the Patriarch of Russia elected, and as a Head of one of the oldest Orthodox Churches, headed the festive Divine Liturgy in the cathedral of Jesus Christ the Saviour in Moscow, at the day of February the 1st.
"I assure you that we are ready with all of our power to help you in this responsible service, including the sharing of our resources, because the African mission has a very important value and meaning for the entire Orthodox world" – stated Patriarch Cyril at the meeting with the Head of Alexandrian Patriarchate. Russian Patriarch gave a solemn conviction that Russian Orthodox Church is ready to help in the construction of the new Orthodox church in Kenya. In the moment Russian Church has churches in four African countries: South African Republic, Egypt, Tunisia and Morocco.
The Canonical territory of the Alexandrian Patriarchate, encircling a great part of the African territory, in has the moment over thirty thousand believers and around 150 temples. Patriarch Theodor himself, travels through Africa, in order to visit and meet the people of the tribes even in the most far and isolated areas of the continent. Right after his stay in Russia, Patriarch Theodor heads to Cameroon, where he will have to walk for dozens of kilometres, due to the lack of roads and other communication net in the country.
Source: Патриархиа.ру