A request to Patriarch Bartholomew to keep reasonable limits in the Dialogue with the Catholics ( 11.02.2009 )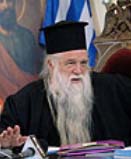 The Metropolitan of Calabria and Egaleo, Ambrosias from the Greek Orthodox Church published a letter to the Patriarch Bartholomew on his web-site, stating his disagreement and concerns of the behaviour of the Patriarch of Constantinople, regarding the dialogue with Vatican. Metropolitan Ambrosias clearly feels that Patriarch Bartholomew is over crossing the limits of the negotiations.
"With a sorrow in my heart, I kindly request the continuing theologian dialogue not to be executed in common prayers or common presence in liturgies or any kind of divine services, in any case" – says in his letter Metropolitan Ambrosias.
"Such acts may create a false impression that our Orthodox Church recognises the Catholics as a true Church, and the Pope as a true canonical bishop of Rome. An impression that Patriarch Bartholomew is in a hurry to unite the two Churches is in such way, imposed by itself" – sates further on Metropolitan Ambrosias in his explanation.
In his appeal, Metropolitan Ambrosias accents that Patriarch Bartholomew taking presences on the catholic services and prayers together with the Pope in Vatican "causes not only restlessness, but also an enormous worry, to many in the Orthodox world, because such communication is not allowed in the Holy Canons."
Metropolitan Ambrosias quotes a concrete fact which shows the way of co-service:
"Patriarch Bartholomew over-crossed the permissible limits in the dialogue between the East and the West, because the common pronouncing of the Symbol of the Faith is an act of a divine service."
Source: Дверибг.нет