First Whole-Russian Olympics of the Moscow students in knowledge about the Bases of Orthodox Culture ( 18.02.2009 )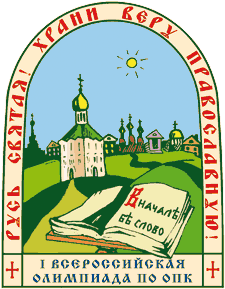 A regional tournament of the Olympics in knowledge of the Bases of Orthodox Culture called "Holy Russia, save the Orthodoxy" for the students from Moscow and Moscow Region will take place at 1st of March.
The First Whole-Russian Olympics in knowledge about the Fundaments of the Orthodox Culture for the pupils from 5-11 class is to be held with the blessing of the late Patriarch Alexy the Second, and in cooperation with the Ministry of Education of the Russian Federation and the Council of Rectors of Russia.
These Olympics enter the List of Olympics in knowledge for all the students from 2008-2009 school year, which was established by the Ministry of Science and Education of the Russian Federation.
The tasks of the Olympics are oriented around the program in the learning subjects as follows: "Orthodox Culture," "Bases of the Orthodox Culture," "Sources" etc. but also at the contents of chapters and titles of Orthodox culture, which are an integral part of other educational objects, too. The tasks of the Olympics include questions that are regarded to erudition and resourcefulness, as well.
These Olympics are made in order of advancing the knowledge in history and culture of the Orthodoxy, and in order of development the subjects connected to the said above. The Olympics are directed in moral and spiritual education of the students, and in a support of the high gifted (talented) students appearing.
The organisation and the happening of the Regional Tournament of the Olympics, for the pupils of Moscow and Moscow Region are in patronage of the Pedagogical Faculty of the Orthodox Saint Tichonov Humanitarian University.
Source: Патриархиа.ру