Georgian Patriarch Elijah II back to Georgia at the end of the week ( 20.02.2009 )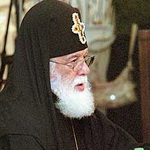 The health condition of the Georgian Patriarch Elijah the Second is well enough. His Holiness is feeling better and will go back to Georgia at the end of the week – stated in the Georgian Patriarchate.
"Patriarch Elijah went to hospital treatment in one of the most famous hospital centres in Germany. His health condition improved significantly and he has not problems with his heart in the moment" – was said in the statement.
German doctors have advised the Patriarch to stay two more weeks in the Kuschman Clinics, but he decided to return to Georgia earlier, at the end of the week. The manager of the Press centre of the Patriarchy, archpriest David Sarasenidze appealed to the press not to speculate with the rumours circulating, concerning the Patriarch health, but to check all the information in the Patriarchate first.
Georgian Patriarch Elijah II left for Germany at February the 4th, for medical examinations in Berlin's Clinic, the place where he had had a bypass intervention on the coronary arteries several months ago.
Anyway, doctors stated that despite the stable health condition of His Holiness, the decision of the medical testing was brought in cooperation of both German and Georgian doctors.
Source:
Патриархиа.ру