The keys of the Russian property in Bari (Italy) to be handed to Russian President Medvedev at March the 1st, 2009 ( 25.02.2009 )


The final act in the process of conferring the Russian property, dedicated to St. Nicolas, in the Italian city of Bari will happen at 1st of March, as the Italian President Giorgio Napolitano will hand the keys of the property to the Russian President Medvedev.
According to the report of the Kremlin Press-service, Russian leader will arrive in Bari at 1st of March, in his official visit, after the acceptation of the invitation given by his Italian colleague Signor Napolitano.
Italian authorities brought the decision of conferring the temple of St. Nicolas and the property around the church, during the visit of Mr. Vladimir Putin, who was Russian President then, to Italy in March 2007.
The Government of Italy have finished the legal proceedings to confer the property to Russia in irretrievable ownership, in April 2008. A few months later, in November 2008, the Contract of the transfer of the property was signed in Rome.
The keys of the property should be handed to Russian President Medvedev while he should has visited Italy in December 2008, as it was agreed firstly, but the unexpected death of Patriarch Alexy II, delayed the visit of the President.
The initiative of creating the church complex in Bari, for the Russian pilgrims, coming to bow to the relics of Saint Nicolas the Miracle maker, came from the holy Grand Duchess Elisabeth Fyodorovna Romanova. The complex was built to the project of the architect Alexy Shiyushev, and the funds were collected from contributions (donations) of the believers, one of each was the contribution of the Emperor Nikolay II. The complex in Bari hasn't been finished after the First World War and the Russian October Revolution yet, and in 1937 the complete complex together with the land were given at governing to the city of Bary authorities.
The City Government of Bari returned a part of the complex, in benefit of the Moscow Patriarchy at the end of 90's, but the whole complex remained under jurisdiction of Bari authorities, and that was disturbing any pilgrimage visit to the place, until now.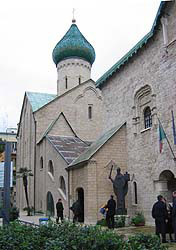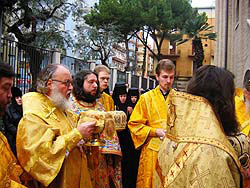 Source: Интерфакс