Metropolitan Jonah speaks about the tasks of the Orthodox Church in America ( 03.03.2009 )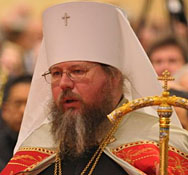 The new elected Head of the Orthodox Church in America, Metropolitan Jonah does not agree when they compare him to President Barack Obama. "I don't think I'm so radical"- said the Head of the Church in his interview.
"Speaking frankly, I spent very little time thinking about myself, my task is not to define my point of view, but to understand the will of God related to the Church."
"We will have to carry a big reform in the Church" – said the Metropolitan furthermore.
He considers his task as an active missionary work and preaching. 60% of about one million Orthodox believers in America, 70% of its priests and 90% of its bishops have been converted to Orthodoxy from other confessions – accented Metropolitan Jonah.
Metropolitan Jonah wants to achieve a unity of all the Orthodox Churches in America, and considers that in some far future a unique Holy Synod with one Patriarch can be formed in America.
Извор:
Патриархиа.ру