Liturgy of the Presanctified Gifts in Moscow ( 04.03.2009 )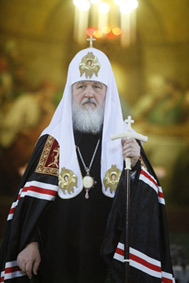 The Russian Patriarch Cyril celebrated Liturgy of the Presanctified Gifts in the cathedral of the Lord Jesus Christ the Saviour in Moscow, at the day of Wednesday of the first week of the Great Lent.
After the service, the Russian Patriarch spoke to the present people with the words:
"The Lent, as abstinence from abundant food, the prayer as a mean of unification with God, charity as a mean of unification with our fellow ones, are the three basic deeds that influence the human's soul."
According to the words of Patriarch Cyril, the aim of the Lent is to prompt the zeal for spiritual life in the human being. Occupied with our daily cares, we do forget the every-day necessity to do something for our soul. Patriarch Cyril accented that the zeal to live our spiritual life may fade away in such way of behaving. In order this zeal to become our permanent habit, we do need the maxima of our Holy Fathers which is known as "collecting of the mind in heart".
It is solemnly necessary, to think every moment about what is happening in our soul, to expose ourselves to a strict self-examination of our consciousness" – said the Patriarch. A good and wise communication with our spiritual father, helps a lot in this.
Patriarch Cyril have noticed that such condition of our consciousness – "collecting of our mind in our heart" – means we are able to defeat the sin since at the level of thoughts. However, it is also necessary to train our will permanently. To achieve this, the abstinence and fasting help a lot.
Source: Патриархиа.ру