Patriarch Kirill to visit local Orthodox Churches in accordance with the service list of Primates ( 11.03.2009 )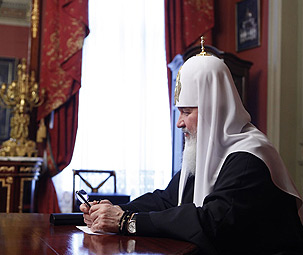 Moscow, March 11, Interfax - Patriarch of Moscow and All Russia Kirill plans to pay a fraternal call on local Orthodox Churches in capacity of newly elected Head of the Church in accordance with an age-long tradition.
He expressed his wish Tuesday night at the annual reception held by the Greek Embassy on the occasion of Orthodoxy Sunday. Patriarch mentioned that the order of his visits would be identified in accordance with the diptych, the service list containing the names of primates of Orthodox Churches.
Addressing the hosts and guests of the Greek Embassy, Patriarch said that he was going to visit Greece as well.
"I hope to meet with His Beatitude Archbishop Hieronymus and the people of Hellas to foster the best relations between us", Patriarch Kirill said.
The service list of local Orthodox Churches mentioned by Patriarch includes today the following 15 jurisdictions: Constantinople, Alexandrian, Antiochian, Jerusalem, Russian, Georgian, Serbian, Romanian, Bulgarian, Cyprus, Helladic, Albanian and Polish Orthodox Churches, the Orthodox Church in the Czech Lands and Slovakia, and the Orthodox Church in America.

Patriarch Kirill, however, is reported to make his first visit abroad to Ukraine which is known to be included in the canonic territory of the Moscow Patriarchate.
Source: Interfax-religion