Anxiety Dominates in Greece and the World ( 11.03.2009 )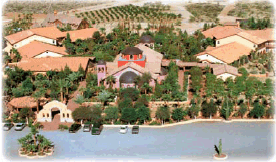 Anxiety dominates the lives of people in Greece and the world in general due to the continuous economic crisis...
Dailygreece, aware of this pervading climate of unrest, approached Elder Ephraim at his monastery in Arizona. Many consider him isapostolos - equal to the apostles - since America is experiencing a new Pentecost with the twenty monasteries he established and their missionary endeavors there.
We asked him if this economic crisis will escalate and if we, as Christians should take some extra precautions such as storing food provisions and material goods, outside/along with the necessary spiritual vigilance that we must always practice...
This was the reply we received by the father in charge of the monastic community's communications:
Elder Ephraim simply advises people to be prepared and to attain food provisions (and water perhaps) for a few months because there is a possibility of a great economic crisis this year worldwide. They should do this without panic however. If nothing happens, the food supply will not go to waste...
The elder also said that these hardships are the result of people's sin and admonishes/exhorts people to repent and to live a Christian life with participation in the mysteries of the Church.
Source: Daily Greek