Orthodox Priests served a Liturgy, for the first time in the capital of Vietnam ( 13.03.2009 )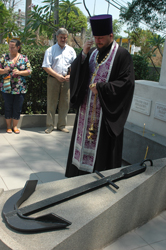 The clergymen of the Vladivostok Eparchy for the first time in history celebrated an Orthodox Divine Liturgy, in the capital of Vietnam, Hanoi.
The Divine Liturgy was celebrated at the territory of the Russian Centre of Science and Culture, in the frame of the pastoral visit of the priests of the Russian Church, which took place between the 5th and the 12th March, and with the blessing of the Archbishop of Vladivostok Benjamin.
In addition, the clergymen made a Service in the eve of the Day of the Victory of Orthodoxy, in the city of Wong Taw.
The next pastoral visit of the Orthodox clergy to Vietnam is planned to happen at Easter.
Source:
Интерфакс