Preparations for convening of grand pan-Orthodox synod ( 24.03.2009 )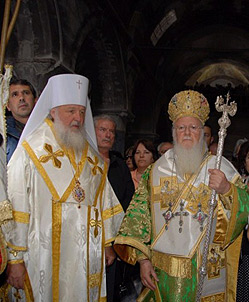 Istanbul (AsiaNews) - With the sending of letters of invitation to all the heads of the Orthodox Churches for the two preparatory meetings for the grand pan-Orthodox synod, scheduled for June and December of this year, Bartholomew has set in motion the decisions made at the recent pan-Orthodox meeting in October, held in Constantinople, and attended by deceased patriarch of Moscow Alexy as his last act in life.

Now, the letters sent for the two preparatory meetings to be held in June, in Cyprus, and in December, in a place to be determined, present the following topics: 1. The Orthodox diaspora, where the jurisdiction over the Orthodox flock beyond national borders will be defined. According to the canons now in effect, before the growth in the phenomenon of emigration the faithful outside of their home country belong to the ecumenical patriarchate. 2. The manner of recognizing the status of autocephalous Church. 3. The manner of recognizing the status of Church autonomy. 4. Dypticha, meaning the rules of mutual canonical recognition among the Orthodox Churches. 5. Establishing a common calendar for feasts. For example, some Churches celebrate the Nativity on December 25, others 10 days later. 6. Impediments and canonicity of the sacrament of matrimony. 7. The question of fasting in the contemporary world. 8. Relationships with the other Christian confessions. 9. The ecumenical movement. 10. The contribution of the Orthodox in affirming the Christian ideals of peace, fraternity, and freedom.
Source: Directions to Orthodoxy