Georgian Orthodox Church celebrates its Autocephaly ( 25.03.2009 )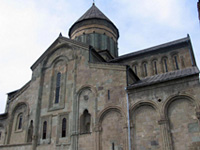 The Georgian Orthodox Church celebrates the day of аutocephaly at the day of March the 25th. In the occasion of this, all temples in Georgia will serve Holiday services to God.
According to the Tradition, Apostles Andrew, the First-called and Simeon Canaanite were preaching Christianity in Iberia. The Orthodoxy became a state religion in Georgia in the 4th century. In the year 457, Georgian Orthodox Church had got autocephaly from the Church of Antioch.
Eastern Georgia came under the rule of Russian Empire in the year 1801. Later on, in 1811, the Holy Synod deprived the rank of Patriarch to Anthony II, and revoked the Patriarch service in Georgia. Since June 30th, 1811, Georgian Church has fallen at the status of Georgian Exarchate of the Russian Orthodox Church.
At 12/25 March 1917, at the Mchet's assembly, in a one-sided decision, Autocephaly of the Georgian Church has been declared. The communication between the Moscow Patriarchy was officially established by a Resolution of the Holy Synod of the Russian Orthodox Church at the day of November 19th, 1943. Finally, the Patriarchate of Constantinople confirmed the Autocephaly of the Georgian Orthodox Church, in the year 1989.
Source: Патриархиа.ру