Russian Patriarch Cyril saluted the residents in Stavropegial Monastery of St. John in Karpovka ( 03.04.2009 )


Yesterday evening, since he arrived in the Northern capital, Patriarch of Moscow and all Russia Cyril, set off to the Monastery of St. John in Karpovka. The Head of Russian Church was welcomed by Abbess Seraphima and the monastery sisterhood.
Patriarch Cyril visited the church of the Saint Jovan of Rila, and then enter into the crypt, where the relics of Saint Righteous John of Kronstadt are placed. The Bishop prayed to God's Saint and bowed on his grave.
Accompanied by the Sisters from the Monastery, Patriarch then entered the cathedral of the Twelve Apostles. There he spoke to the Abbess and to the nuns in a short speech.
Thanking the prior and the Sisters from the monastery for the prayer, Patriarch Cyril asked them to continue having him in their prayers "on this place of particular spiritual struggle on the Petrograd's land."
According to long-years tradition, the Stavropegial Monastery of St. John in Karpovka is the place where Moscow Patriarch stays during his visits of Saint Petersburg.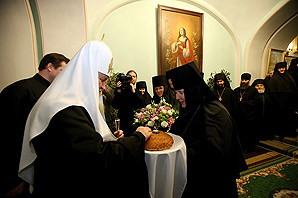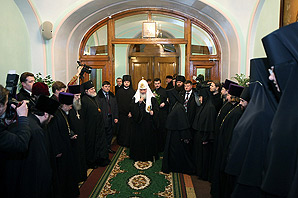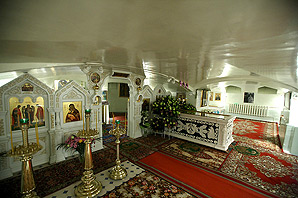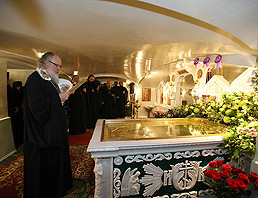 Source: Патриархиа.ру