Patriarch Cyril has visited the headquarters of the "Patriarhia.ru" web portal ( 16.04.2009 )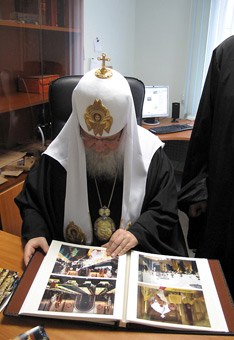 At April the 14th, His Holiness Patriarch of Moscow and all Russia Cyril has visited the administration building of the Moscow's Patriarchate. Patriarch Cyril has visited all the rooms in which are now placed various services of the Patriarchate.
The department of Foreign Church affairs was placed for many years
in the building. The later venerable Metropolitan Nicodemus was working here as a President of the Department, before he died.
After visiting all the departments, Patriarch Cyril has visited the redaction of the web portal "Patriarhia.ru" and was acknowledged with the activities of the redaction.
The people employed have shown all the departments in which the news were prepared, the archive of the photo-materials, video-montage rooms and some other departments of the web portal and the Press service of the Moscow Patriarchate, as well, to Patriarch Cyril. Mr. M.U. Moiseev has given photographs and an album made during the Council of the Patriarchate, and the ceremony of enthronement of Patriarch Cyril as a present from the Press Service.
Patriarch Cyril has blessed the employees in the redaction, praying for full help of God in their further efforts.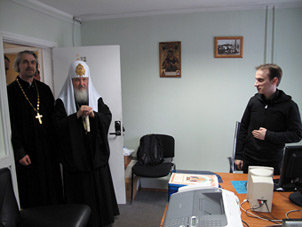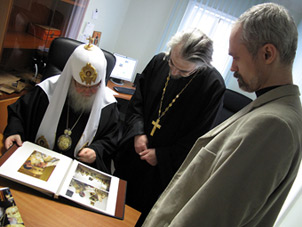 Source: Патриархиа.ру