Patriarch Kirill urges Orthodox Church in America to active missionary work ( 29.04.2009 )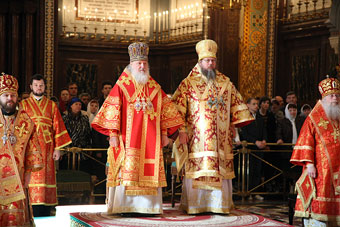 Moscow, April 27, Interfax – Active mission among local people should remain a priority for the Orthodox Church in America, Patriarch Kirill of Moscow and All Russia believes.

"Your Church has been missionary from the very start as the great preacher of God's word Patriarch Tikhon of Moscow and All Russia headed it," Patriarch Kirill told Metropolitan Jonah of Canada and All America, who is visiting Moscow, on Sunday at the Cathedral of Christ the Savior.

Patriarch Kirill reminded that Patriarch Tikhon and Hieromartyr Alexander Khotovitsky who "did a lot for spreading Orthodoxy in America" had prayed and worked in once destroyed Cathedral of Christ the Savior.
"Your Beatitude spare no effort to promote missionary work of the Church and that's the way it should be," the Primate said.
Source: Interfax