The President of Ukraine visited the Patriarch of Constantinople ( 22.05.2009 )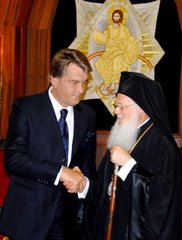 Ukrainian President arrived at the Istanbul Airport accompanied with several assistants, and went directly to the residence of the Patriarch of Constantinople. The Gallic Metropolitan Emanuel and the Main secretary of the Holy Synod of the Patriarchate of Constantinople, Archimandrite Elpidofor took presence on the meeting as well. Metropolitan Emanuel and Archimandrite Elpidofor have been presenting the Patriarchate of Constantinople in several meetings from various characters in Ukraine, before this meeting. The meeting was closed for public and press.
The Greek press agency Romfea, reports that the Ukrainian president Jushenko and Patriarch Bartholomew had "a long and cordial talk on subjects of common interest." The press-service of the Ukrainian president on the other hand, stated that a possibility of establishing a Church facility and a Cultural-informative centre of the Patriarchate of Constantinople in Ukraine has been taken in consideration on the meeting, though it was not told precisely whether any agreement of such issue has been attained.
Mr. Victor Jushenko confirmed that Ukraine, just as before, is interested to bring together the Orthodox believers in the country under one Local Church. "In addition to this, President Jushenko stated his confidence that in the processes of uniting the most important factor is the Church of Constantinople, and the personal wisdom and efforts of the Patriarch Bartholomew" – as it was given in the official statement of the Press Centre. The preparation for announcement of the Ecumenical council has also been discussed at this meeting.
Some efforts for establishment of the representative office of the Patriarchate of Constantinople, has been done before, too. So, in the year 2005, the Russian Orthodox Church expressed their protest concerning the information about founding the representative office in Kiev and Lvov.
"According to the rules, a Church service facility may be established by a common agreement between the Heads and the Synods of the two Local Churches. And by rule, it goes in a reciprocity principle. However, no such desire has been claimed by the Patriarch of Constantinople to the Moscow Patriarchate. The Metropolitan of Kiev Vladimir, doesn't know anything about such combinations, too" – stated the Secretary of Inter-orthodox Relations, Archpriest Nikolai Balashov.
Moscow Patriarchate, rated such possible establishment of a representative office of Constantinople Patriarchate in Ukraine, as an attempt of new schism – broadcasted Interfax.
Source
: Дверибг.нет