President of Russia Dmitrii Medvedev have met the custodian of the Vatoped Monastery from Mount of Athos ( 23.05.2009 )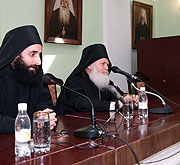 The custodian of the Vatoped Monastery from Mount of Athos, Archimandrite Ephraim, has met the students of Sank Petersburg's spiritual Academy at the day of May, 21st.
A film about the Mount of Athos has been presented prior to this meeting.
Answering the questions of the students, archimandrite Ephraim has been telling the story of the Mount of Athos Vatoped Monastery. Father Ephraim stated that the community in the monastery is second in the hierarchy of monasteries on the Mount of Athos, and has more of one hundred monks in the moment. People of different countries, including Russia are received in the monastery to serve God. This monastery has its metochions in Russia, Ukraine, and Romania. The Vatoped Monastery is the only community in the world, in which seven miraculous icons of the Most Holy Mother of God are placed. Beside this, the Chastity Belt of Holy Mother of God is kept here such as many other holy relics as well. The unique fact is that 65 ascetics from this Holy Monastery have been proclaimed as Saints.
Besides the visit of Sank Petersburg's spiritual school, archimandrite Ephraim has met the President of Russian Federation, Mr. Dmitrii Medvedev. "I will not conceal the fact that your President received me in a visit. We've been talking around two hours. I have identified him as a faithful man, a man who loves Russia, a man who loves the Church and the clergy" – expressed Father Ephraim his impressions to the students.
Answering the question about the monastic order Archimandrite Ephraim accented: "What is necessary in this matter is to follow the voice of God and our heart. What a man needs to understand is the best to him – to get marry or to become a monk, it is necessary monasteries to be visited and seen. If it happens that the young man is rather keen to live a monastic life and if he choose exactly this way to live, then he will have to find a spiritual monk-father, who should advice him and help him in his further self-determination."
Source:Патриархиа.ру