Romanian Patriarch visited Constantinople ( 02.06.2009 )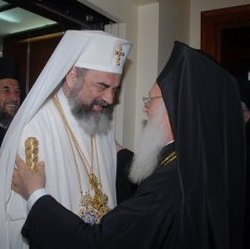 Romanian Patriarch Daniel has officially visited the Patriarchate of Constantinople in the days between May 27th and June the 2nd. This visit came in the occasion of the "Year of Saint Basil the Great" as the Holy Synod of the Romanian Orthodox Church proclaimed the year of 2009.
"We are grateful that we have discovered the connections which Capadoccia has with our fatherland, Romania. We have been admiring the beauty of our religion during the visit, the Byzantine art, jointly with the beauty of nature here. We are very glad for being accompanied by many Greek and Romanian archpriests and many devotees, as well. We have prayed together during the Vespers in Saturday, May the 30th, in the church of the Holy Kings Constantine and Helene in Synasos. In Sunday, May the 31st, we have celebrated together the Divine Liturgy in the church of Saint Theodore in Malakopos, where Greek and Romanian devotees have sang together at the service" – stated the Romanian Patriarch.
The initiative for commendation of the Great father from Capadoccia is connected to the 650 years anniversary of the foundation of the Hungarian-Vlach's Diocese in 1359. In his welcoming speech to his host Patriarch Bartholomew, the Romanian Patriarch Daniel, in who's official rank since 1925 was included "Regent of Cesaria and Capadoccia", explained the nature of the connections between the Holy Fathers of Capadoccia and the Romanian Orthodox Church.
"The particular connection of the Romanian Orthodox Church to Saint Basil the Great, the Archbishop of Capadoccian Cesaria, can be seen in our title "Regent of the Throne of Capadoccian Cesaria". That honour has been granted to the Metropolitan of the Country of Romania Gregory the Second (1760-1787) by the Patriarch of Constantinople Sophrony at October the 10th, 1776, in respect and honour of the financial support and great hospitality, which has been given to the Patriarch by the over Danube countries, in the times that were hard for him. Since 1925 this title belongs to all Patriarchs of Romania, because in the same time they are Metropolitans of the Hungary-Vlachia (recent Muntenia and Dobroudza) – said the Romanian Patriarch.
Извор:
Bazilica.ro